Espatent is at the leading edge of patenting, helping our clients protect their latest innovations. Our office is located at the heart of Helsinki. Our flexible working hours take everyone's individual needs into consideration, allowing for working at home too. At Espatent, you'll be a member of a tight community in an inspiring and down-to-earth work environment, enabling each and every one of us to succeed. With our extensive benefits, we take good care of our employees, and they stay with us for the long term.
Are you a patent attorney, or would you like to become one?
Send your application by e-mail to rekry@espatent.fi.

For more information contact Sanna Kalliola,
+358 40 845 7265, firstname.lastname@espatent.fi.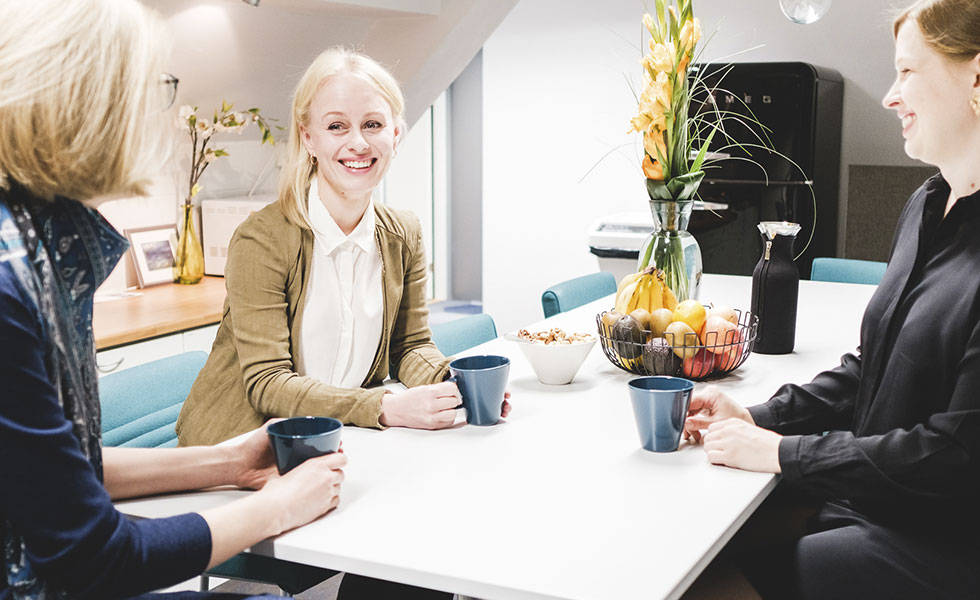 Career in patenting
There are two types of personnel at Espatent, patent attorneys and supporting admin personnel.
As a patent attorney, your competence is continuously developing, so stagnation is never an issue. With the technological development and evolving legal landscape, you never stop learning. Working with patents, your job is to sell your argument to the patent offices with your professional expertise. You also need to understand the clients' needs and help them identify and protect their inventions and support their business with IPR. Additionally, you may help clients in dealing with patent-related problems and disputes. An analytical, detail-oriented mind is an asset, as it helps you compare and analyse technological solutions and arrive at the best possible option to protect clients' innovations. To succeed in your work, you need to have interest in law and different aspects of various technologies. You must also have the ability to produce accurate technical text.
As a member of our admin team, you'll support our patent attorneys in the formalities related to patent prosecution and make sure schedules are followed. Succeeding in your work requires a keen eye for detail and ability to manage multiple projects at a time.
Every member of our team is a top specialist in patenting.
Work your way to be a patent attorney
If you're not a patenting specialist yet, we'll help you to become one. The patent attorney training typically takes 3 to 5 years, over the course of which you'll learn the field of patenting on the job under the guidance of our experienced attorneys and by taking the relevant training courses. You first need to pass the Finnish patent attorney examination to become an authorised patent attorney, then followed by studies for the European qualifying examination. At Espatent, your initial assignments will include searches and translation, as well as drafting and prosecuting patent applications. You'll take part in different stages of the patenting process right from the beginning, and our entire work community will support you on your journey towards becoming a professional patent attorney. We are committed to your professional development by offering extensive training and permanent employment.
Our prerequisites for a patent attorney:
A Master's Degree in technology or science
The ability to produce accurate technical text
Desire for learning and long-term development
Good negotiation and interaction skills
Interest in technology and IPR